Join CBY in the annual Salt Lake City Pride Festival Parade
June 3, 2018 @ 10:00 am

-

2:00 pm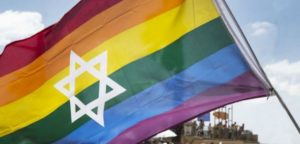 Okay everybody, it's time to break out the rainbow-pattern Jewish stars and other appropriate attire and join Chavurah B'Yachad in the annual Salt Lake City Pride Festival Parade taking place this Sunday! Rachel and I are coordinating CBY's participation this year, which as far as we know will be the only official Jewish representation in the Pride Parade. So let's get out there and let Utah know we're here, loudly and proudly supporting equality and justice for all, helping to keep the Jewish voice on the front lines of Utah's LGBTQ movement!
Meet us this Sunday, June 3 at 10:00 am on the block of 300 West near the Holy Trinity Cathedral Greek Orthodox Church, which is between 200 South and 300 South. (The parade itself marches from west to east on 200 South.)
RSVP to let us know you're coming, that way we'll know we have enough people to carry the CBY banner and I can text you with any last-minute updates. Plus, the religious groups also play the role every year of carrying the huge pride flag, so we need as many additional people as possible to help with that!
Thanks and see you then,
Matthew and Rachel